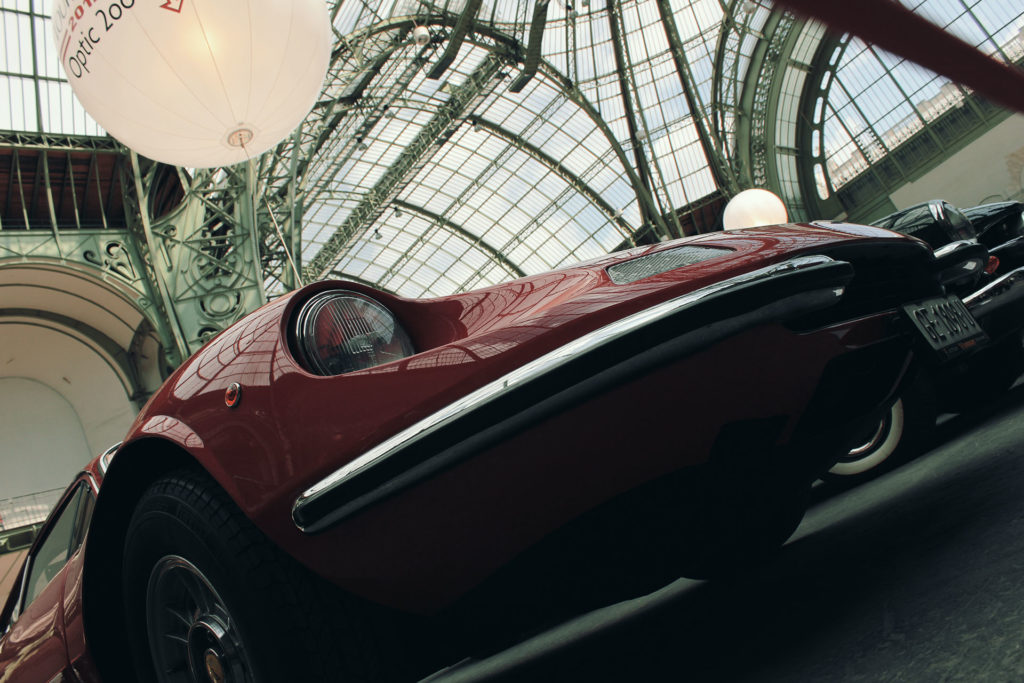 Tour Auto 2012 – Grand Palais
Tour Auto 2012: Paris, Grand Palais, April 12th.
Let's talk about this magnificent Dino 246 GT and the 13.500 m² glass, steel and iron recognizable nave of the Paris' Grand Palais that bring you here.
This last was erected for the Paris 1900 Exposition. And was intended to host cultural and artistic events. Classified historic monument 70 years later thanks to his architecture, gigantism and history, just after the Dino was released. Named from his tragically dead son, Enzo Ferrari refused to put his badge on a car that would not fit a 12 cylinders engine. Indeed, the iconic berlinetta was powered by a 192 HP 2.5L V6 engine and was produced between 1969 and 1974. But did participate to one of the most prestigious and best racing saga ever occured in France created in 1899: Le Tour de France Automobile. Both the building and the event share the same age. In 1992, after a 6 years interruption, Le Tour Auto comes alive again thanks to Patrick Peter. A retrospective version gathering every single ressource that was yet involved in its international fame. Satisfying the condition to join as a 1951 to 1973 TDF's participant car, our splendid Dino, can revive this bluntly high-end historic race after being exhibited in this landmark. As well as many other never-fading-beauties.
As you would expect, in 22 years, lots of tremendous wheels with various specs were facing each other in different categories. The modern version involve three rankings. Indeed, they are set up to respect the banger « oomph » of a Peugeot 403 compared to the feverish Porsche 911 RSR 3,0L: « regularity », « scratch » and « performance index ». Regularity consists in keeping a low / high / insanely high average speed for all the stages you participate. Please note that cars produced after 1966 aren't allowed to choose the low average speed. Don't observe this rule, get early or lately to the checkpoint? You are about to be imposed a penalty. In other words, be careful if your drive is not as sensible and punctual as a swiss-made watch. Then, « scratch » regulation is more like what racing in petrolhead's steel and fuel skulls looks. Get flat out either on countryside roads and tracks, get timed, the fastest wins. As spectacular as it is simple. Finally, « performance index » takes on board the scratch regulation, the age of the car and its engine capacity: let the BMC Mini and the Ferrari 250 GT Berlinetta fight together!
For its 21st edition, the tour auto 2012 will see 300 participants to start. From the Grand Palais, 17th April at dawn, to Beaune, Aix-les-Bains on 18th April, Clermont-Ferrand on 19th, Nimes on 20th and Nice the 21st. With special phases on racetracks at Dijon Prenois, Charade and Paul Ricard, completing about 1.800 kilometers.
NB:  Britain's Shaun Lynn win the 2012 edition for the second time with his AC Cobra.
« You have to know what you want, when you want it, you must have the courage to say it,

and when you say it, you need the courage to carry it out. »

Georges Clemeanceau
Need more fuel? Read our Tour Auto 2012 series.
Check our Instagram, Twitter and Tumblr.